Dear Mrs. Huffington, dear Arianna,
On behalf of The Thrive I would like to congratulate you with the launch of your fantastic initiative Thrive Global. In your opening statement you invite people to respond if your piece resonates with them. And it does, big time! We welcome Thrive Global's ambition to (re)energise people in order to attack the worlds #1 disease: burn-out and stress. Finally an initiative from this magnitude that supports growing the movement.
We have been on a similar mission to 'Energise People' in the business world for the last 5 years now and learned a lot. As a result of that we added the part of 'Activating Business', because we believe that when we are able to:
(re)connect people – strength based – to others and their teams and
facilitate the development of social intelligent cooperation and
embark them on the journey of creating new meaningful business value (extraordinary results) and
(co)design a new way of working in and beyond teams
the investment becomes durable as energy does not lie, neither do results. This will speed up the tipping point within businesses to start organising work differently.
We will advise our clients to become a member of Thrive Global, just like us. So they can find many different insights, tools, services and products that can help them thrive again. At the same time I can imagine that The Thrive and Thrive Global will team up to strengthen our mutual efforts to (re)energise people again, especially in the business world.
May I invite you for a nice cup of tea or tasteful lunch to discuss possibilities? Anytime, anywhere!
For now I wish you a sparkling day,
Boudewijn Roubroeks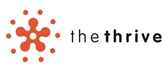 Energising People | Activating Business