For organisations
Would you like to speed up your organisational development by unleashing the energy and true potential of your organisation? Would you like to change your culture to increase business, engagement or agility? Do you want to strengthen your leadership or increase the impact of your teams?
Accelerate the development towards a thriving organisation
We advise and facilitate (top) leadership teams to activate their organisation and strengthen their leadership. We help you cultivate a strength-based way of working and the capability to oversee, lead and energise organisational development.
We facilitate growth incubators and workshops, coach and train you and your people to design, lead and energise the transformation you want to achieve with your people and organisation.
Reversed Approach
With our reversed approach we offer you an integral method to make your organisation thrive. We do that by personalising the ambition, stimulating the involvement of your employees and by facilitating the organisation in finding their own organising principle. The Reversed Approach consists of five essential building blocks, which we apply depending on the needs of your organisation. Spark your ambition, deepen your leadership, strengthening your collaboration, activating a way of working and designing your setup.
The steps are no different than most change approaches; we only reversed the order, because this does lead to sustainable success. By working with 'what is', finding the intrinsic motivation, the strengths of the people first and activating a result oriented new way of working after that, you will create an unstoppable movement.
This way of working positively influences the energy of your employees and hence the agility of your organisation. Which is vital in these times of exponential change.
Space and open dialogue
Create an environment where intrinsic motivation can flourish by stimulating mastery, autonomy and value creation based on personal purpose.
Make it personal
Organisational development goes as quickly as the personal development of leadership and the people in the organisation. If you want to accelerate and go deeper you need to make it personal.
Sense making by doing
People truly know what they think if they've done it, experienced it. Development leads to insight more often than the other way around. This is how you activate your new way of working.
1. Spark your ambition
To get to intrinsic motivated development it's crucial to spark your ambition together. Connecting with each other and to something larger than ourselves stimulates a profound and creative sense making process. The organisation noticeably starts developing its full potential. And you get a sense of feeling that your personal contribution matters. A sense of energy, pride and spirit that becomes tangible when you talk about your organisation. Through interactive and experiential learning sessions a we work towards a profound ambition in the organisation.  This embodied ambition creates a level of urgency and above all a renewed spirit.
2. Deepen (personal) leadership
Ownership increases when people are able to contribute to the ambition based on personal strength and motivation. To make sure your employees take personal ownership, we organise personal brand sessions. By doing so, we make their intrinsic motivation and unique talents visible. We match those with the new ambition, allowing people to find their drive in taking ownership in the necessary developments. We usually use Lumina profiling to help people find their strengths. Naturally we can also offer your employees personal coaching.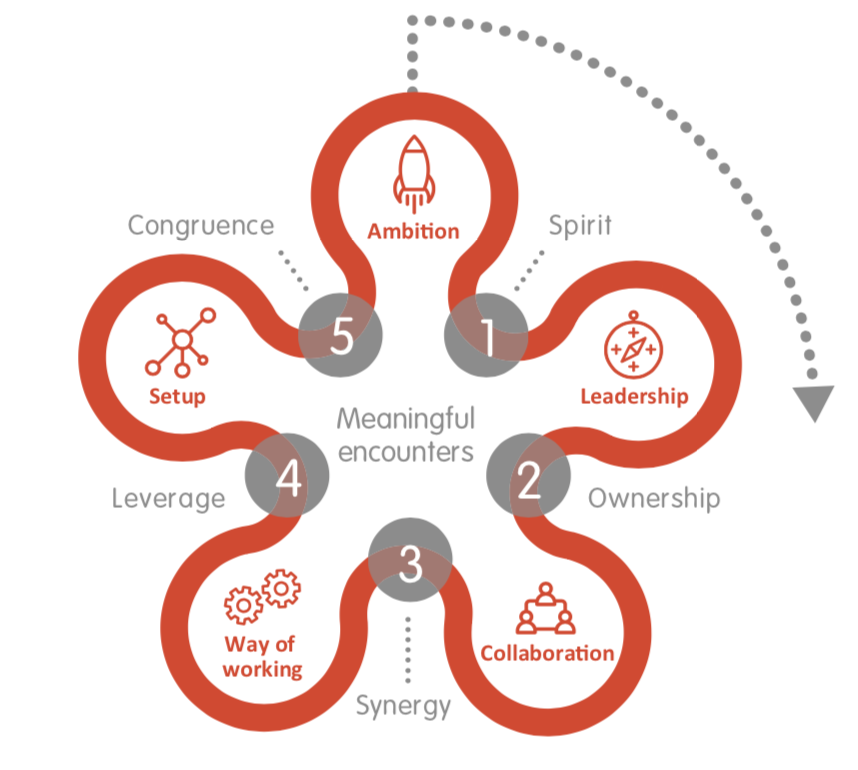 3. Strengthen collaboration
In team workshops we strengthen the relationships, communication and by doing so the trust and collaboration in the teams. Embracing each others differences and playing on each others strengths is a crucial ability that we transfer using the personal brands and Lumnia profiling. We also develop the team-dynamics, feedback processes, energy management, effective meetings and solution based communication. This leads to high thriving teams increasing effective collaboration and synergy.
4. Activate a way of working
In team workshops we activate teams in a new way of working necessary to increase leverage in the organisation. Collaborating on the basis of personal strength is not enough. You also need to invest in a new way of working and new routines. Routines that help increase leverage, creativity and results.  Because doing the same over and over again and expecting different results is, to speak with the words of Einstein, insanity.
5. Designing your setup
In order to successfully navigate through an ever-changing and interconnected world, a different way of organising is crucial. We facilitate you on your path to self-organisation by finding your own organising principle. Additionally, we support you during the implementation of a dual strategy. Resulting in the business of tomorrow (exploration) being in balance with the business of today (exploitation). With this we secure progress and growth. Above all we look if the organisational setup is in line with your ambition and with what people need to be successful. This is how we anchor congruence in the organisation.
Would you like to get more out of your organisation? And would you like to transform your organisation towards more agility and self-organisation?
Contact us