In everyone resides a leader,
who chooses beyond
self-interest and personal
needs to inspire others to
achieve a higher purpose"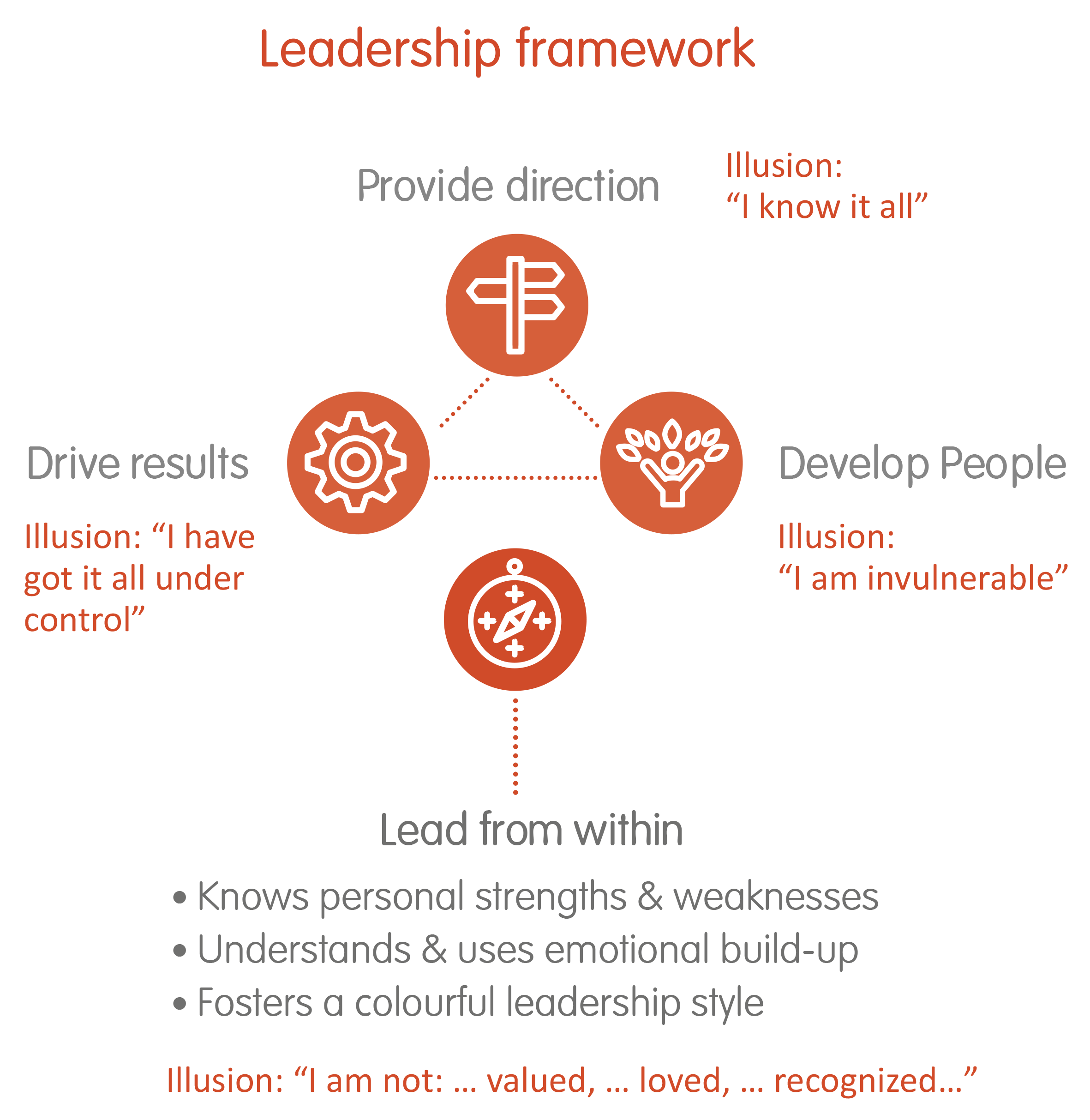 In cooperation with our clients we have developed tailor-made executive leadership programs. Some have run for more than a decade and became the 'flagships' of our clients portfolio. In these programs we create a unique, serious, real and radically personal experience through which leaders get to know and enhance their personal leadership, inspire each other to higher levels and push their organization to become more connected, more human and more aligned. ​
Leaders aim for three types of results through their choices and their work: shared direction, people growth & better results. The GRIP leadership program provides a rigorous concept, structure and methodology to develop leaders. The program is tried, tested and acclaimed for its impact. Deep impact comes from the connection to everyone's 'leadership from within' and the connection to the business context of your organization.
20 – 45-minute interactive keynote of our views on leadership: why many leadership models don't work and the key to transformational leadership. Leaders can be charmed into believing the illusions that they know it all, they have got it all under control & that they are invulnerable. There is a way out: Leadership choice.
First things first: many first line managers get exposed early to inspiring leadership models, without being equipped with basic people management skills first: sound selection interviews, performance development conversations, objective setting cascading, meeting hygiene & coaching skills form the foundation for every leader. In our programs these skills are connected to insights on everyone's unique leadership presence: personal preferences, uniques talents, beliefs, values & emotional build up.
In our network we have a select group of seasoned executive coaches. We view the matching and monitoring of the coaching process, as crucial to its success. There is always an introduction to two coaches, a moment of choice and a description of the trajectory and learning objectives. It provides unparalleled leadership impact if the timing, matching and objectives are right.
Leaders often neglect their own well-being by working too many hours, attending back to back meetings, emails. The organization dictates a drumbeat and heartbeat, which is hard to sustain. Our vitality work uses real data based on neuroscience, Heartmath & heart rate variability to start the conversation and reflection on leaders' physical, mental, emotional & spiritual wellbeing. Ranging from adapting new sleep, exercise, and nutrition habits, cultivating a conscious growth mindset, crafting a career that is healthier and closer to heart, personal purpose, and talents. Often integrated with leadership & team programs. Read more about Thrivability.
Tim got up at 6 AM every day. Spent three hours in traffic. 7 - 8 hours back to back in meetings, usually doing email and What's app at the same time. He kept many projects going, 'helping' his reports when issues got escalated. Ensured executive presentations were run or supported by himself. Well in touch with all key stakeholders. 60 hour works weeks. Nagging feeling of not doing enough. Uncertain deep down. Fell asleep in front of the tv or reading a book to his kids.
Now Tim spends the first hour in the gym, meditating or reading. Checks in with Asia through a call, or answers questions in Teams. Stays at home or drives relaxed after traffic hours. Does a half hour stand up with his direct reports. Walks the floor. Tim has delegated more and knows his managers better. Some people need more probing about results and progress, others just a personal question. He spends less time at work, less time in meetings, less time on his mobile. Escalations have dropped by half. He has time to work with his peers on the activation of the new strategy.​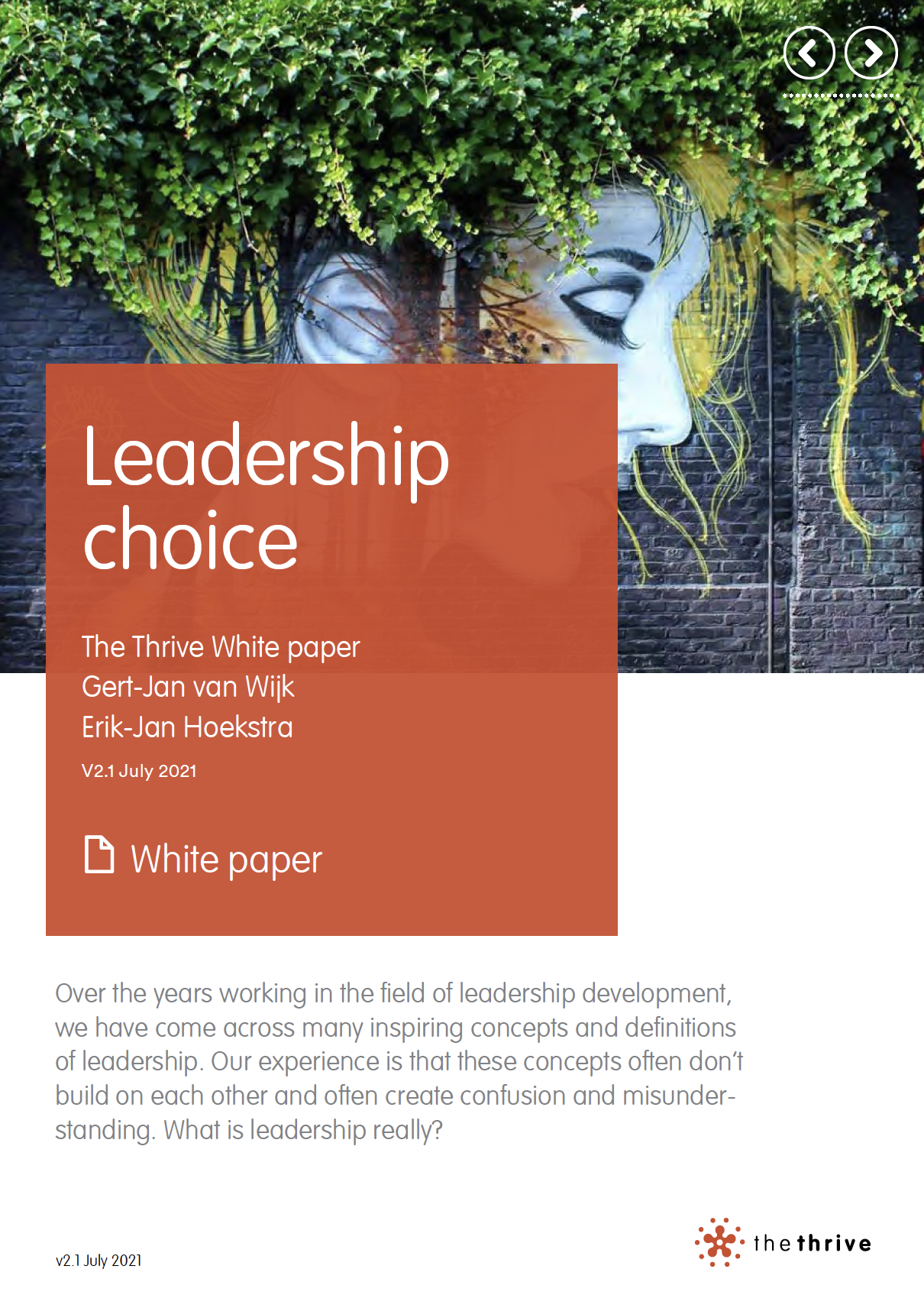 Over the years working in the field of leadership development, we have come across many inspiring concepts and definitions of leadership. Our experience is that these concepts often don't build on each other and create confusion and misunderstanding: what is leadership really?