The most powerful organizations adapt and self correct in order to thrive"
It's about being the best for the world
Let's face it: there is a deep need for renewed leadership, better collaboration and a new way of organizing work. It's not about being the best in the world anymore, it's about being the best for the world! A need for meaningful work, deeply felt motivation, pleasant adaptability, laser sharp focus and infectious vitality. How do you ensure that the people in your organization keep thriving? That they embrace fear and uncertainty, to operate outside their own comfort zone. That everyone takes ownership for excellent execution, continuous development and innovation? Precisely because they want to and because they feel autonomous enough to actually do what's necessary.
Becoming a thriving organization
We have developed a people-driven transformation approach to enable people and organizations to thrive in a sustainable way. The levers in the approach are not so new. We emphasize the reversed order of the levers during activation. This has an unstoppable positive influence on the energy, autonomous motivation and intrinsic ownership of all people. And thus, on the effectiveness and agility of your entire organization. The image below shows the five steps you want to follow clockwise to become a thriving organization.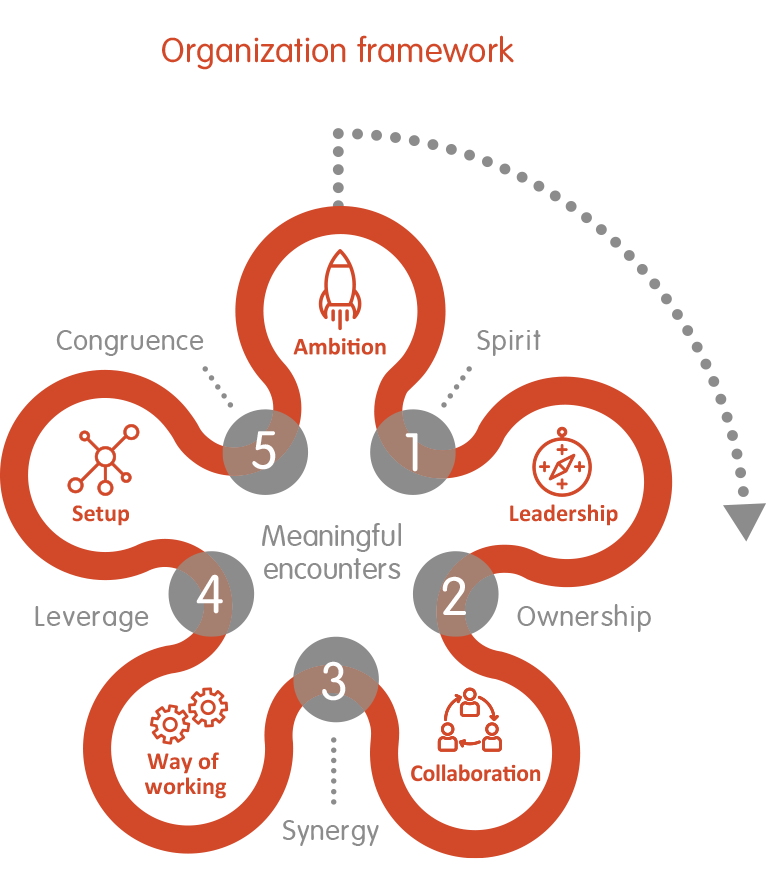 We advise and facilitate (top) leadership teams to activate their organization and strengthen their leadership. We help top teams cultivate a strength-based way of working and the capability to oversee, lead and energize organizational development. We facilitate growth incubators and coach and train the change leaders to design, lead and energize the transformation.
To get to autonomous motivated activation it's crucial to spark your ambition together. Connecting with each other and a shaping a profound ambition, stimulates a creative sense making process and a renewed spirit. The organization starts developing its full potential. People get a sense of feeling that their personal contribution matters. A sense of energy, pride and spirit that becomes almost tangible. Examples: we need a breakthrough in results and reignite our spirit, after a reorganization & cost-cutting. We have a good strategy, but how do we activate it throughout the organization?
An organization transforms as quickly as leadership develops. Leaders set the tone, impacting the employee mindset. And mindset impacts behavior, driving engagement and performance. It requires leaders that lead from within, beyond the expectations of others, listening to their inner drivers. Being clear on what needs to happen in line with our purpose, culture and long-term strategy by involving everybody. Cultivate a learning culture by showing vulnerability and changing the way we systemize success. Examples: increase our leadership impact and empowerment, become more appreciative and engaging in tough conversations.
Culture eats strategy for breakfast. So, how do we increase collaboration across silo's, create a winning mindset, increase trust or develop a high performing culture? An organizations culture is a set of collective values and -beliefs that influence collaboration. It is the result of what is created (intentional) or tolerated (by accident). This needs to be discussed, exercised and embodied. Unfortunately, old habits, sometimes referred to as the undercurrent, prevent fruitful collaboration. Through collective reflection sessions we facilitate leaders to be more intentional on growing the culture that is needed to be successful.
A new ambition often demands a new way of working. A different way of selling, the development towards self-organizing teams, or the implementation of agile. All ask for a change in a way of working to increase the leverage in the organization. Working on leadership impact and a collaborative culture is not enough. You also need to activate new routines. It's all about systemizing success. We facilitate teams to discover their winning routines, helping them to adapt, change and transform their way of working in line with their role in the organization.
In order to successfully navigate the interconnected world, a different organizational setup is often needed. Do we dare to review our organizational set up and ask ourselves whether it is still aligned with our ambitions and people's needs to perform optimally? Can we decrease the pressure of the bureaucratic processes and are we willing to apply new principles of organizing? Can we embed exploitation and exploration simultaneously in our organization? We facilitate leadership teams to think about deregulating and deformalizing things that can be solved with trust. And creating more autonomy within the strategy and culture frame of the organization.
Organization breakthrough
One of our clients needed a breakthrough in results. Confronted by a lot of changes in their industry, they just finished a large cost-cutting exercise. And, as it's not possible to cost cut your way out of a crisis, we co-designed a transformation program to re-energize their strategy, impacting both the bottom line and top line growth. The organization needed to reignite the spirit of success, collaboration and innovation.
After a leadership retreat with the leadership team to really spark the transformation from within, a top 60 meeting was organized to reactivate trust, personal leadership and autonomous motivation on the transformation ahead. Then, every leader in the company took ownership to ignite collaboration and a new way of working in their teams. Resulting in a smooth transition, a new vibe, different results and above all more pride within the organization.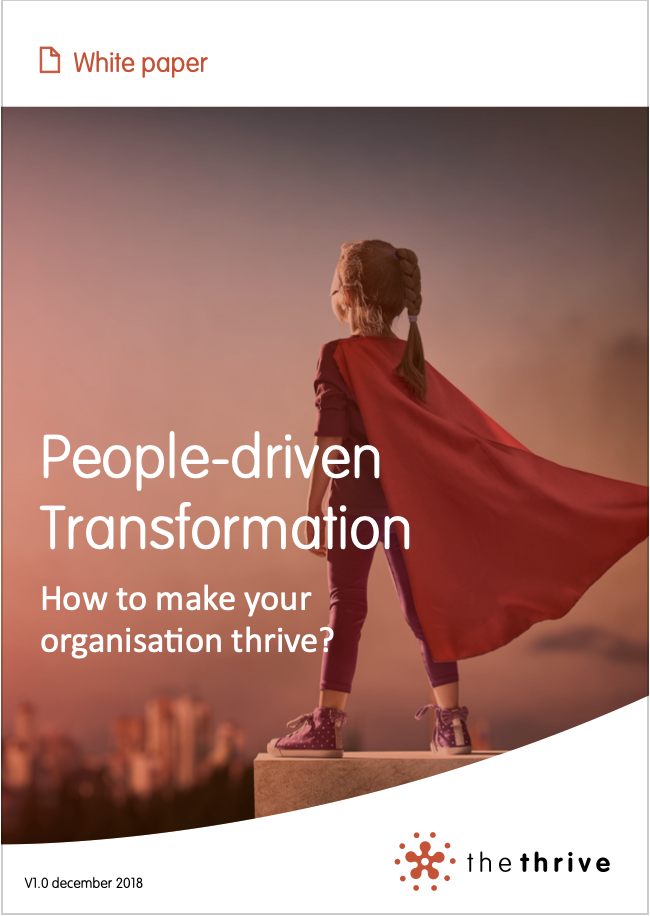 Continuous transition has become the new standard. Standing still is treading backwards. Many leaders struggle to find an answer to the question of how they can give their results a new and sustainable impulse. How do you create a different and deeper kind of focus, increase adaptive capabilities and transitions succeed?